EVENT: 14th Annual WPA & Transatlantic Conference
June 14-16, 2023 | Boston, MA, USA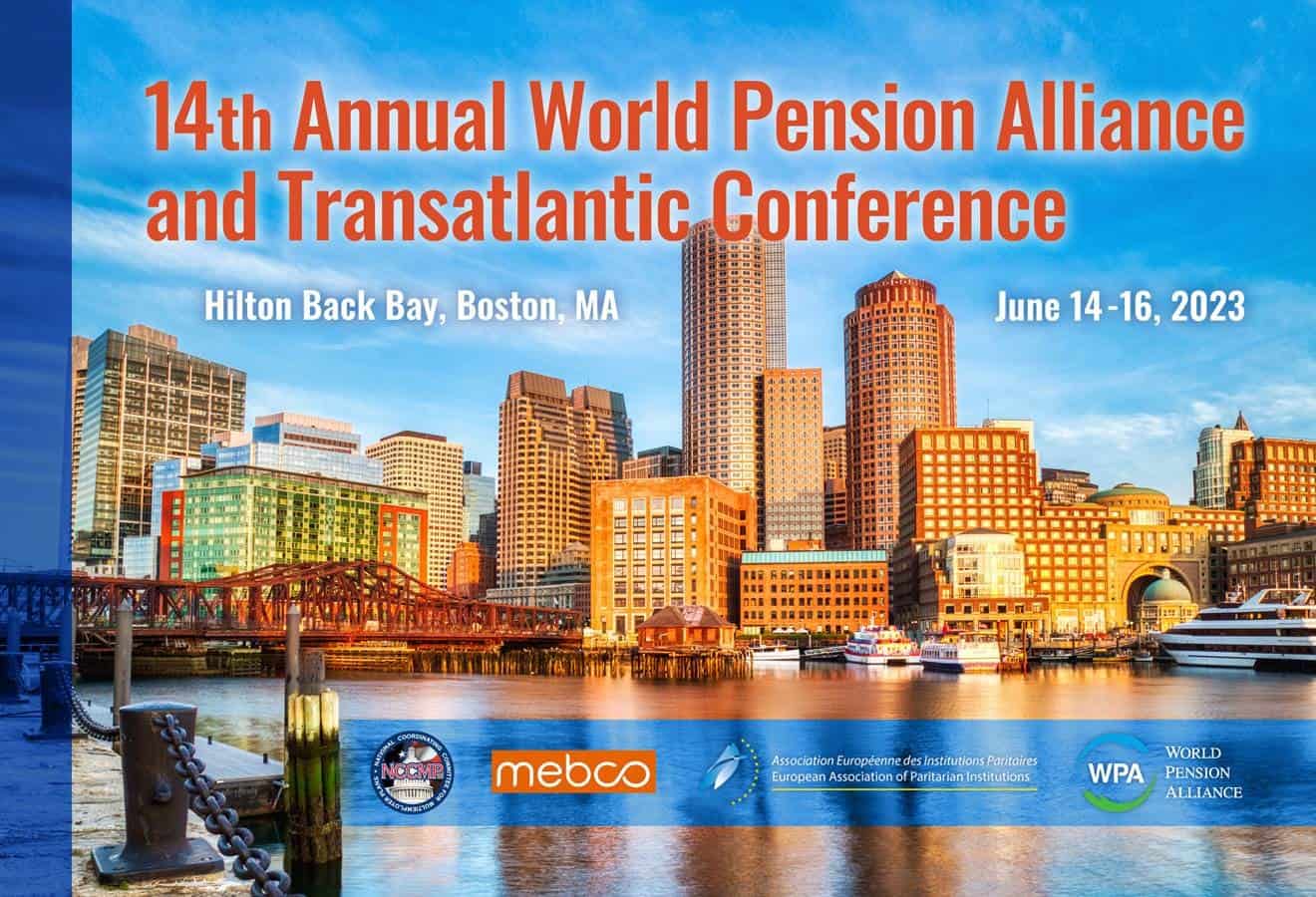 The 14th edition of the World Pension Alliance and Transatlantic Conference is organized by the National Coordinating Committee for Multiemployer Plans (NCCMP), the World Pension Alliance and the Transatlantic partnership, consisting of NCCMP, the European Association of Paritarian Institutions (AEIP), and the Multi-employer Benefit Plan Council of Canada (MEBCO).
The conference will be held on June 14-16th at the Hilton Back Bay in historic Boston, Massachusetts.
Each year, the World Pension Alliance and Transatlantic Conference brings together thought leaders and policy makers from around the globe to discuss the trends and best practices in retirement and healthcare benefits, as well as the state of labor/management relations and bargaining throughout the world.
This year, the event will include leading experts in pension and health benefits, as well as Trustees and plan professionals from around the world to share their knowledge and expertise to share their experience on global topics of interest in the areas of pension and healthcare, including:
– the increased global focus on ESG factors in selecting and evaluating investments
– evaluating and maintaining pension fund solvency
– impacts of inflation and the current high interest rate environment
– differing approaches to improving the access and availability of mental health benefits
– controlling the cost of healthcare including prescription drugs
– collective bargaining and nontraditional forms of work
and many more.
Registration and the hotel block are now open –
Please click here to register and reserve your hotel room today.
We look forward to welcoming you in Boston in June!
Agenda and speaker information available at the link above soon!

* * *
2023 WPA & Transatlantic Conference Sponsors
We are also pleased to offer a number of sponsorship opportunities for this event. Please contact kelly@nccmp.org if you are interested in partnering with us to reach our diverse, international group of benefit plan representatives.