EVENT: 13th Annual WPA & Transatlantic Conference – Online Event, 7-8 June 2022

The 13th edition of the Conference is organized by the Australian Institute of Superannuation Trustees (AIST) & the World Pension Alliance and the Transatlantic partnership, consisting of the European Association of Paritarian Institutions (AEIP), US National Coordinating Committee for Multiemployer Plans (NCCMP), the Multi-employer Benefit Plan Council of Canada (MEBCO).
AIST has the pleasure of hosting the 2022 World Pension Alliance & Transatlantic Conference as an online event in the afternoons of June 7 and 8, 2022 (CEST).
Each year, the conference brings together leading experts in pension and healthcare benefits, as well as Trustees and plan professionals from around the world to share their knowledge and expertise on the most prevalent issues.
The World Pension Alliance & Transatlantic Conference traditionally focuses on main trends that concern pensions and healthcare providers including funds management, sustainable finance, solvency principles, global labor market trends, industrial relations and social dialogue. The 2022 event will provide a good opportunity to explore how pension funds will transition to carbon neutral, the effect of an ageing population and how a low interest, high inflation environment will impact the sustainability of our global pension funds.
The discussion focused on:
Session 1: GEOPOLITICAL ENVIRONMENT – HOW ARE PENSION FUNDS DEALING WITH TURMOIL?
Session 2: COP26, NET ZERO, CARBON TRANSITION AND ALL THINGS SUSTAINABILITY
Session 3: AGEING WELL – HEALTH CARE AND AFFORDABILITY
Session 4: CHANGING NATURE OF WORK
To register for this free event, please click here.
Event Program
Please view the latest event program here and information on the speakers here.

* * *
2022 WPA & Transatlantic Conference Sponsors

We are also pleased to offer a number of sponsorship opportunities for this event. Please contact sabuckley@aist.asn.au if you are interested in partnering with us to reach our diverse, international group of benefit plan representatives.
______________________________________________________________________________
close: Global Pension Dialogue Day, 30 May, Venue: Stadsschouwburg, Leidseplein 26, 1017 Amsterdam, Netherlands – more info here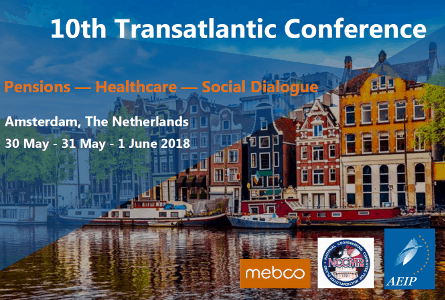 Global Pension Dialogue_Day1_TransatlanticConference